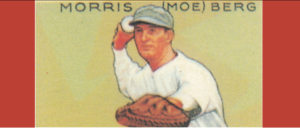 WORK IN PROGRESS
MOE BERG: ALL-STAR ESPIONAGE?
May 6, 2018 at 11:00 am
Edlavitch DCJCC
1529 16th St NW, Washington, DC 20036
Dir. Aviva Kempner | 20 min.
Documentary United States 2018
Sunday, May 6, 2018 – 11:00 AM Edlavitch DCJCC 60 min. program
Morris "Moe" Berg was an enigmatic major-league baseball player who played for five MLB teams, including the Washington Senators, before joining the OSS to spy for the U.S. on the Nazis atomic bomb program.
Berg grew up in an immigrant Jewish family in Newark, NJ. This screening of this clip from Aviva Kempner's work in progress highlights Berg's exhibition tour with Hall of Famers Babe Ruth and Lou Gehrig to Japan in 1934.
20 minutes of the work-in-progress film will be shown, followed by a discussion with director Aviva Kempner, intelligence analyst Richard Willing, and Henry "Hank" Thomas, biographer of Walter Johnson (and his grandson).
This event is free to attend.